In case you haven't heard (what, you haven't liked my
Facebook page
yet??), Zoya is running a new promo for zoya.com account holders*. Through 11:59 PM EST on 6/25/12, you can pick 3 colors from the Beach and Surf collection for $15 AND get free shipping (gotta love when they throw in free shipping). Don't know what colors to get? Let me see if I can help.
I bought
Rory
, Zuza and Wednesday.
Color descriptions:
Rory
: "Medium mauve pink with lilac tones, gold and silver reflective metallic shimmer accents, and a foil-like finish."
Zuza
: "Deep, saturated, oceanic turquoise with gold and silver metallic shimmer and a foil-like finish."
Wednesday
: "Faded dirty medium turquoise with green undertone and an opaque cream finish."
If you only pick one of these, pick Zuza. I've seen many swatches of the color, and I think it looks good on everyone. I didn't even know I liked foil finishes until I put it on. I'll warn you though, you'll need a good base coat. My hands looked like death when I removed the color lol. Rory also gave me a funny stain, so protect your nails!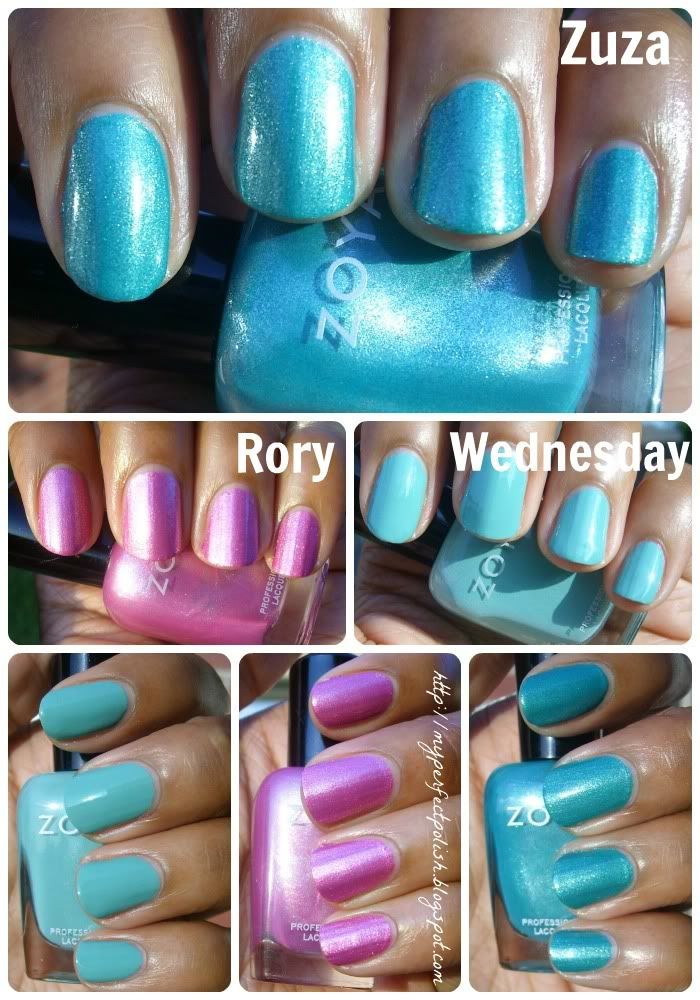 *You must've had an account prior to 12pm on 6/11/12. Be sure to check out Zoya's
blog
for all of the fine print.